I have a special place in my heart for Thomas Dolby. I was a fan from a thousand years ago and continue to this day. Most people remember him as an 80′s one hit wonder, but they couldn't be further from the truth.
He lives in Suffolk, England now and near his home there is a lighthouse. This lighthouse is being reclaimed by the sea. Erosion eats at the land daily and the lighthouse needs to close.
Thomas made a film chronicling the lighthouse, it's closing and the impact on English culture. None of those are entirely accurate, but it's a good throw at the dartboard. The movie is silent, so he narrates the film live. His music and voice add life and colour to a wonderful experience.
It felt like being in his living room, enjoying home movies. Thomas was on the floor, his rig assembled in front of the screen, while the rest of us were on folding chairs enjoying the personal journey.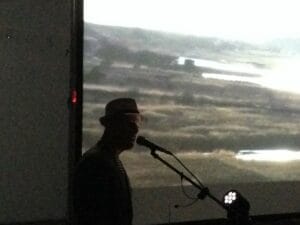 After the movie, he did a Q&A for a bit, then something a little different. He had a "youtube star" Tim Blaise flown in from Montreal to show off some neat new-media software looping stuff (and ended up doing an acapella version of blinded with science).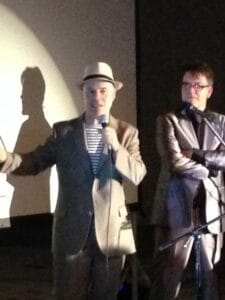 Here's Tim's Bohemian Rhapsody
After the guest appearance of Tim, he finished off with about 30 minutes of him playing some songs. He put his laptop up on the screen, so we could see the pro-tools loops, what was being built live, what was recorded. Some of it was triggering video clips (it was awesome seeing young Dolby singing hyperactive on screen with modern Dolby doing all the singing and music).
I've seen TMDR play numerous times, and every night is different. Every show feels like an event. Thomas makes the world a better place.